Blues < Skins > Bonny (talk? | users | test page | RWD? | set as default | unset | validate: HTML, CSS)
Summary: Boira skin
Version: 20111202
Prerequisites: None
Status: Alpha
Description
Boira is a stylished version of the default pmwiki skin.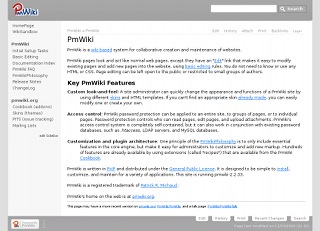 Installation
Follow the usual procedure. Uncompress the package in your pmwiki installation folder, and edit your config.php to use this skin:

## Use the Boira Skin.
$Skin = 'boira';

Configuration
This skin uses its own EditForm and PageActions. You can configure them editing Site.BoiraXLPage.
If you want to continue to use your own EditForm and PageActions, you might safely remove wikilib.d/ and boira.php from the pub/skins/boira/ directory.
Notes
This skin is in alpha state, it is not intended for production sites as it has not been intensively tested. Use it at your own risk. Cross-browser support is also not well tested.
Screenshots
Change log / Release notes
20111202 - Correction on the CSS file, reported by Petko
20111130 - Replaced $UserGroup by $AuthorGroup
20111129 - Admins can safely remove wikilib.d/ and boira.php form the skin dir.
20111128-2 - Fix tmpl to use the PageActions configured through BoiraXLPage.
20111128 - Initial release.
User notes +5: If you use, used or reviewed "Boira", you can add your name. These statistics appear in the Skins listings and will help newcomers browsing through the wiki.